Schenna Hotel Grafenstein: prices, terms and conditions
The prices include: ample breakfast buffet until 11am, each afternoon a tempting array of cakes from our own patisserie, a variety of hearty meals and a consistently delicious evening meal with salad cart and plenty to choose from. In addition there's an outdoor pool open all day (from April to October) and an indoor pool, an infrared cabin, a relaxation room with water beds, a gym with cardio machines, and an afternoon fruit and vitamin bar in the fitness area, a sauna complex with sauna, steam room and alpine herb sauna and Kneipp basin, an in-house event programme plus twice weekly guided walks.

New: Electric car charging
Prices 2022/2023
Here you can find the prices for the season 2022/2023
Daily rate: per person with 3/4 board. Special price: per person, 7 overnight stays with 3/4 board.

On Sundays no 3/4 board (only bed and breakfast), deduction of € 18.00 per person.
Except Easter and 29/10/2023

Doubleroom East Morning Sun, 25 qm
Period
24.03.-24.06.2023
14.10.-05.11.2023
24.06.-05.08.2023
05.08.-14.10.2023
up to 6 nights
128,00€
131,00€
142,00€
from 7 nights
123,00€
126,00€
137,00€
Doubleroom East Apfelduft, 30 qm
Period
24.03.-24.06.2023
14.10.-05.11.2023
24.06.-05.08.2023
05.08.-14.10.2023
up to 6 nights
132,00€
135,00€
146,00€
from 7 nights
127,00€
130,00€
141,00€
Doubleroom South Palm View, 30 qm
Period
24.03.-24.06.2023
14.10.-05.11.2023
24.06.-05.08.2023
05.08.-14.10.2023
up to 6 nights
140,00€
144,00€
156,00€
from 7 nights
135,00€
139,00€
151,00€
Doubleroom Southwest Grafenstein, 27 qm
Period
24.03.-24.06.2023
14.10.-05.11.2023
24.06.-05.08.2023
05.08.-14.10.2023
up to 6 nights
140,00€
144,00€
156,00€
from 7 nights
135,00€
139,00€
151,00€
Doubleroom Southwest Bird's Nest, 30 qm
Period
24.03.-24.06.2023
14.10.-05.11.2023
24.06.-05.08.2023
05.08.-14.10.2023
up to 6 nights
145,00€
151,00€
164,00€
from 7 nights
140,00€
146,00€
159,00€
Doubleroom Deluxe Dream View, 38 qm
Period
24.03.-24.06.2023
14.10.-05.11.2023
24.06.-05.08.2023
05.08.-14.10.2023
up to 6 nights
156,00€
159,00€
169,00€
from 7 nights
150,00€
154,00€
164,00€
Doubleroom Deluxe Romantic, 40 qm
Period
24.03.-24.06.2023
14.10.-05.11.2023
24.06.-05.08.2023
05.08.-14.10.2023
up to 6 nights
163,00€
167,00€
176,00€
from 7 nights
158,00€
162,00€
171,00€
Terms and conditions
Local tax extra: 2,20 € per person and night
Daily rates per person, with "Pamper" Pension (3/4-board). Weekly flat rates , per person, for seven days with "Pamper" Pension (3/4-board), including use of the bathing/sauna facilities, all taxes and fees.
Payment in cash up to 5.000,oo Euro or with EC Card. Credit cards: Visa and Mastercard. Swiss Francs will be converted according to the daily currency exchange rate.
For stays under three days in length: 10% surcharge on room rates.
If you cancel your dinner in a timely fashion, we will subtract €12.oo from your 3/4-board price.
Dogs (without food): €18.oo per day. Upon request, only. Not allowed in dining rooms, the wellness facilities, and the rest area.
Underground garage: rates for parking spaces: € 7.00 per day. Included in room rates for "Dream View" and "Romantic" rooms.
Arrivals and Departures: We also offer, on prior request, the possibility of an EARLY ARRIVAL from 8 am: Including breakfast (until 11 am), use of the hotel facilities and care of baggage until the room is ready for use at a cost of 18 Euro per person. For arrival before 2pm without breakfast we charge 10 Euro. If you wish, a LATE DEPARTURE up to 6pm is possible. Having vacated their room by 11am, our guests may use the house facilities, bathrobes and slippers, hand towels and saunas, vitaminbar and afternoon buffet (without sunday) for a charge of 28 Euro per person. Opening times and vitamin bar can also be used for a charge of 10 Euro.
Please inform us in advance if you will be unable to be present at dinner (by 8:00 p.m.) on the day of your arrival. In case of reservations made very long in advance, we request our kind guests to re-confirm one week prior to the start of your stay. A reservation can be regarded as binding only if there is a written confirmation from both parties.
Cancellations: Up to 15 days before arrival free of charge; when canceling at least 14 days prior to the start of your stay, we will charge you only 50% of the total price. When canceling 1 day prior to the start of your stay or in case of no-show, we will charge you 100% of the total price. In the case of premature departures / terminations of your stay, we will charge you the customary empty-bed fee for three days.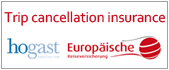 Occasionally, something can happen before the start of a trip. With our trip cancellation insurance you are financially covered. Should a booked stay at a hotel be delayed, or even not taken up or prematurely broken off, cancellation charges can be redeemed. In order to save you any expenses in such cases, we recommend you take out this trip cancellation insurance, with which you are covered by the Europäische Reiseversicherung's travel insurance.
Click here to take your personal insurance.
Please note that, on the day of your arrival, your room will be available for occupancy after 2:00 p.m.. Further, upon departure, we ask that you please vacate your room by 11:00 a.m.
Reductions in additional beds: We guarantee a 25 % reduction in the price of an additional single bed!

In the case of typing errors in booking confirmations the prices displayed in the up to date price list are always valid.
In the abovementioned scenarios the standard pricelist loses its validity.
Prices: We cannot exclude the possibility of a change to prices as a result of changes to taxation!